1.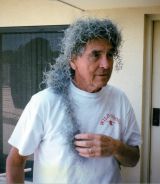 Bernard Fell Wroath was born on 25 Jul 1917 in East Orange, NJ (son of Leon Henry Wroath and Lydia Lovina Fell); died on 4 Jul 2008 in Newcastle, DE.

Bernard married June Pearl Doyle on 11 Apr 1941 in Syracuse, NY. June (daughter of Francis Patrick Doyle and Emma Jeanette Bowen) was born on 8 Dec 1916 in New Hartford, NY; died on 26 Jan 2008 in Bear, DE; was buried in Green Lawn Cemetery New Hartford, Oneida County, New York, USA . [Group Sheet] [Family Chart]

Children:
Kristine Wroath was born on 31 Oct 1947; died on 20 Jun 2021.
Kathleen Anne Wroath was born on 05 Feb 1950 in Oneida, NY.